Former Chicago Bulls star Scottie Pippen seems to be unhappy about ESPN's docuseries on Michael Jordan- The Last Dance, as per reports from Yahoo Sports.
Playing alongside Jordan, Pippen played an important role in the Bulls side that created a dynasty in the NBA in the 1990s. He came into the Bulls side in 1987. Many regarded him as the best player after Jordan in the team. Yet, his pay was significantly less than many of his teammates.
The start of the Last Dance, in fact, revolved around the contract of Scottie Pippen. In the early 90s, Pippen signed a relatively long contract for a lesser amount. He was, in a way, forced to sign it for the financial security of his family. At that time, he had an injury that threatened to end his career. He had signed the contract so that he would have his family secured even if his career were to end.
The Last Dance has justified Michael Jordan but not Scottie Pippen
While many have acknowledged Pippen as an important piece in the Bulls side, critics believe his role isn't justified in the Last Dance. Moreover, he has hardly spoken since the release of the documentary. A few reports say that people close to him believe he's "wounded and disappointed."
Recently, Dennis Rodman, a part of the Bulls side then talked about Pippen.
"I wish he didn't give a shit like me about what people say," he said. "But no one could ever quite see him. He was too quiet, and he was always standing next to Michael Jordan."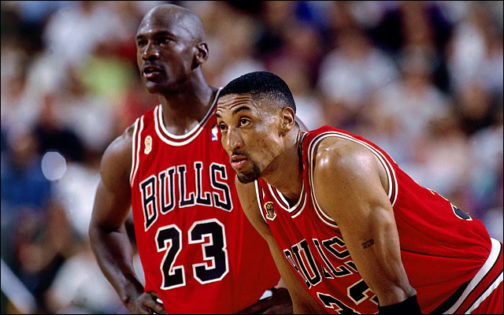 "Scottie was so underrated—and so underpaid. He should be holding his head up higher than Michael Jordan in this documentary," he added. "I think a lot of people are now realizing what he went through. The kid was a hero, in a lot of ways, during those great Bulls runs."
Pippen's importance in the team rose when Jordan retired. During their incredible run in the 90s, the Bulls played a couple of seasons without Jordan. He retired in 1994 when the focus in the team shifted to Scottie Pippen.