Here are some of the top San Francisco 49ers storylines that made their way around social media on Friday, July 31, 2020.
Show Kittle the Money?
Mike Silver went on the NFL Network today and reported that George Kittle and the 49ers front office are at a "significant disconnect" in regards to contract negotiations and even suggests that the superstar tight end could consider opting out of the 2020 season.
There have been plenty of rumors of disconnect between Kittle's camp and the front office for some time now. So much so that a social media movement surrounding Kittle's contract negotiations has been circulating for nearly a month in the form of the hashtag #PayGeorgeKittle. With the official start of training camp nearing, the next couple days could prove to be very interesting.
#ClowneyToSF
A rumor that the 49ers reached out to Jadeveon Clowney surfaced this morning, as reported by @thepick6com on twitter.
Per Source, The #49ers have recently expressed interest in Free Agent pass rusher Jadeveon Clowney. Seemed to be just testing the waters, and nothing is imminent.

— Pick 6 (@thepick6com) July 31, 2020
Workout Distancing
49ers assistant coach Katie Sowers posted a photo to her Instagram showing how the team plans to keep a safe distance during its workout sessions as training camp inches closer.
Taylor Wants Kittle Paid
There are plenty of friends and family members of Kittle who have supported the #PayGeorgeKittle movement on social media but arguably the most impactful representative from Kittle's camp has been 49ers wide receiver Trent Taylor.
Taylor has been using the #PayGeorgeKittle hashtag for some time now but took the movement to new heights by retweeting a 49ers post about Kittle and adding "Front office hiding from the facts."
More San Francisco 49ers News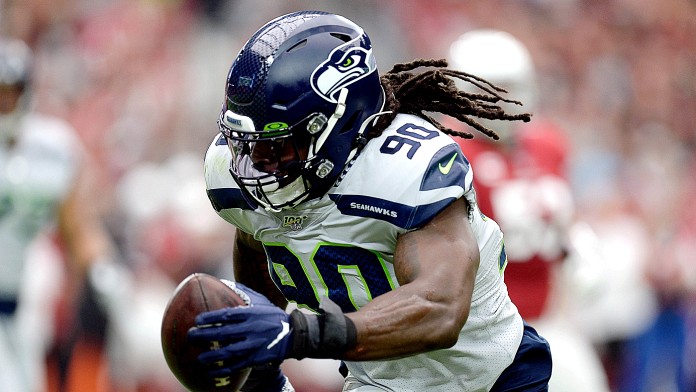 Rumor suggests 49ers might be 'testing the waters' on Jadeveon Clowney
By David Bonilla
10 hrs ago
Could the San Francisco 49ers be interested in free-agent pass rusher Jadeveon Clowney? A recent rumor from thepick6.com is suggesting that is the case.
It is important to stress that I have no information on this source's track record when it comes to the 49ers-related rumors, and no one else seems to be reporting this information outside of referencing this specific source.
Take it for what it is worth. Maybe nothing. Maybe something.
With that said, here is the tweet that has been creating a little bit of buzz over the last few hours.
Per Source, The
49ers Blitz: George Kittle 'went rogue' with workout, training camp approved, Raheem Mostert, mask on
By Brad Graham
Jul 22, 2020
Here are some of the top San Francisco 49ers storylines that made their way around social media on Wednesday, July 22, 2020.
Training Camp 2020: Approved
Santa Clara County officials have given the green light to the 49ers to proceed with training camp.
UPDATE: Per source, #49ers have received approval from the county to move forward with training camp. Rookies, QBs, injured players to report/get initial COVID test tomorrow; Rest of team to come in July
John Lynch says George Kittle will report to training camp, won't put a timeline on a new contract
By David Bonilla
Jul 28, 2020
San Francisco 49ers general manager John Lynch said on KNBR this morning that tight end George Kittle will report to training camp despite the player and his agent seeking a contract extension. Kittle, along with other veterans, will report to the Santa Clara facility for COVID-19 testing today.
Kittle will eventually become the league's highest-paid tight end. While saying he expects his talented offensive star to be among the veterans reporting, Lynch didn't want to put a timeline on any impending deal, saying that the 49ers and Kittle's agent, Jack Bechta, remain in good communication.
49ers coaches have remained in contact with Kittle all offseason.
RELATED: